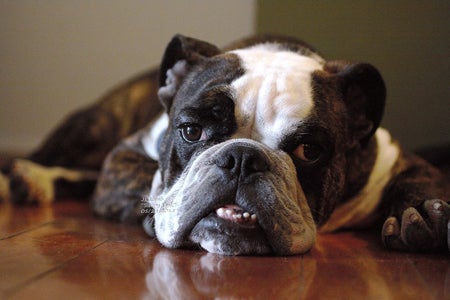 My sweet bulldog Tank started his life as a sad story, like so many other rescues do. He was a twin when he was born but was quickly rushed off to the shelter when his family decided they couldn't handle two bulldog pups. Luckily, Tank was adopted fairly quickly and lived happily with a woman for a short bit. Then tragedy struck. The woman who had adopted Tank fell ill. Tank was left in the care of the woman's neighbor. Although she tried to care for Tank, he proved to be too much for the older woman. My husband just so happened to work with that older woman. As work colleges do, they talked. My husband Brian mentioned I currently had a job working with dogs at a doggy daycare. If I owned a dog (which I didn't at the time but kept hinting at wanting one) I would be able to bring said pup to work with me. It was the perfect set up!
I quickly met Tank and fell for his wrinkled face and wiggly butt! That was almost 2 years ago. At first it was on the premise of just fostering. Soon, with his former owner's health sadly not getting any better, I became Tank's permanent pack leader. I always said I wouldn't have another dog until I had a house. We live in a 3 bedroom condo. My job, which I don't have any more unfortunately, changed those circumstances. But whether I had the job or not, Tank was mine and I wasn't going to let him go!
Bulldogs make a great apartment/condo dog luckily. I take him for walks around the complex when it isn't too hot and my kids love him! Hubby too, although he won't always admit it. But I'm his Alpha. He's my pup and I love my smelly, squishy, sweet bulldog Tank! He has his permanent fur-ever home where he's loved and wanted. I'd have it no other way!
~ Jennifer L. Lamb
by